"Men go abroad to wonder at the heights of mountains, at the huge waves of the sea, at the long courses of the river, at the vast compass of the ocean, at the circular motions of the stars, and they pass by themselves without wondering." ~Saint Augustine
Greetings, scholars!
The Great Wave at Kanagawa by Hokusai
During my family's recent hike to Snow Lake near Alpental at the Snoqualmie Pass, I couldn't help but think of The Pines of Rome by Respighi, especially the 4th movement, The Appian Way. As you watch this video, can you hear with your little ear children playing peacefully under the pines at the beginning of the movement, followed by a walk past the catacombs - Trombones imitate the priests chanting! - and culminating with the Roman soldiers marching triumphantly to Capitoline Hill? (The word capitol is derived from the name of this citadel.)
My family also loves to go boating in the Puget Sound during the summer. We enjoy the excitement of tying up and waiting in the Ballard Locks and then heading out to sea! A marvelous tone poem about the ocean is La Mer by Debussy. Impressionistic, like the art of Monet, Manet, Renoir, Cassatt, and Degas, Debussy paints moods or impressions with music. As a lad, his parents wanted him to become a sailor, but he had other ideas. He preferred looking at the sea in a painting or reading about the sea from great literature. Listen to the lovely and exciting conversations between the wind and the sea. The accompanying paintings are by Turner, an Englishman who influenced the French Impressionists.
What have you and your family been doing over summer vacation? Perhaps, on the occasional rainy day, you have had time to review your music theory? (The greatest composers and conductors typically did not wait to be taught theory, but were autodidacts; an autodidact is a person who is self-taught, requiring intense self-discipline and intellectual curiosity.)
The Piano Lesson by George Goodwin Kilburne (1871)
"A swan-like end, fading in music..." ~Portia in Shakespeare's Merchant of Venice
I have decided to retire from teaching in the fall. Our 4th grandchild is expected in September and I am looking forward to spending Saturdays with my family. I will be coming to the Academy on occasion to teach Yoga for Musicians workshops. Please keep in touch and let me know of your myriad accomplishments. What a pleasure it has been to watch you grow into budding musicians and scholars!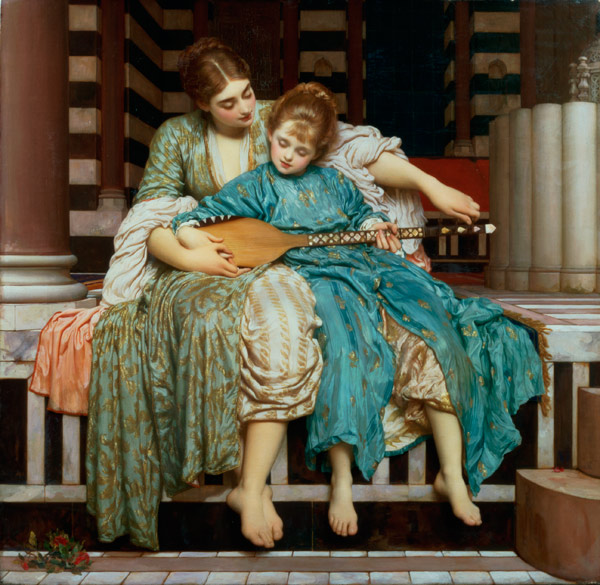 The Music Lesson by Lord Frederick Leighton (1877)
"Music is a higher revelation than all wisdom and philosophy." ~Ludwig van Beethoven
"To leave a place is to die a little." ~French proverb
Arrivederci, amici! Adieu, mes amis!
Blessings,
Mrs. Dike